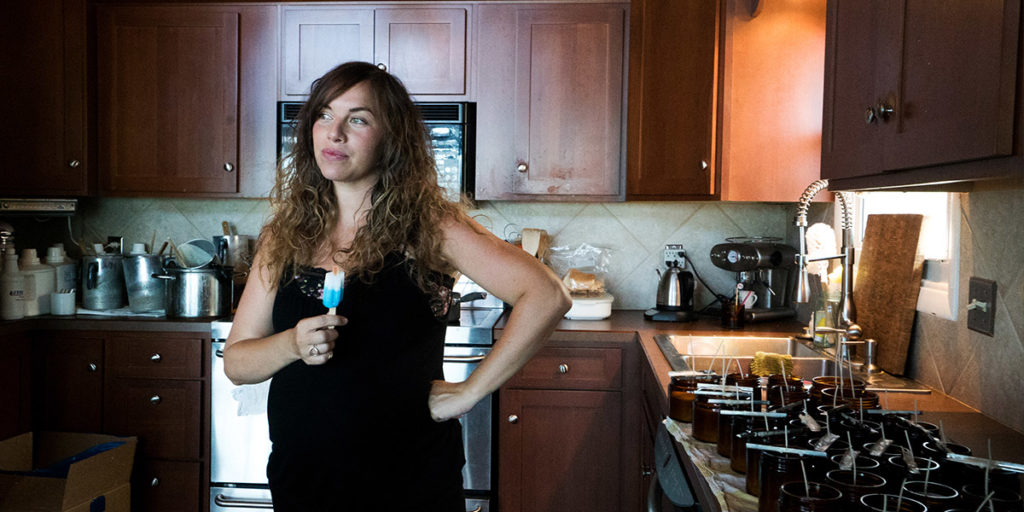 There are at least three candles burning in Alicia Reisinger's house at any given time. The smells vary from day to day, but today it smells like oranges, the holidays and fresh air all rolled into one.
It's luxurious and inviting, homey and relaxing. And it's exactly what you'd expect to experience when you walk into someone's home who makes candles.
Alicia is the proud owner of Wax Buffalo Candle Company. A business she runs out of her kitchen with toddlers in tow, three assistants and a whole lot of yummy smells.
But to Alicia the smells are just part of her everyday life, they came out of necessity – she has babies and bulldogs  – but they also came to life after a season of transition.
Alicia calls this season "the quiet season."
She didn't have a job and her days were spent caring for her baby and spending time with her feisty, 80-year-old grandmother, Ferne. This season was slow and simple, rich and meaningful. It was also hard and confusing because it was so different than what Alicia was used to.
The years prior to this season were anything but quiet. Alicia and her husband, Jonathan, were videographers who lived in Chicago – a city that perfectly matched their love of all things artistic and creative. Alicia describes it as the season when she and Jonathan became "them." They lived in an apartment over a funky soap shop, worked hard, stayed up late and learned how to love each other.
But like all seasons, this one ended after Alicia found out her grandmother was battling her third bout of cancer. So, she and Jonathan packed their bags and moved to Nebraska to spend time with a woman who had shaped so much of Alicia's life.
Making the transition to Nebraska was challenging, but it was also a new adventure for Alicia and Jonathan. They originally planned to stay for just a year, but as they grew their family and got more connected to the community it just made sense to stay.
When Alicia's grandmother died in 2013 things felt quieter than they ever had. She'd lost her grandmother, but also one of her best friends, and she wasn't sure what to do next.
As she grieved, Alicia started making candles, something she and her grandma would frequently do together and the first scent she poured was cinnamon – their favorite scent. She dug in deeper, researching the benefits of soy candles and buying the best oils to create clean and crisp smells.
Then Alicia started to think about how to associate smells with stories, starting with her grandma and then creating other scents that told the stories of different seasons in her own life.
She has a candle called Armitage Street, named after the street in Chicago where she and Jonathan lived after getting married.
As she developed her scents, Alicia slowly started giving away her candles as gifts to friends. Eventually, they asked her if she'd consider selling her candles in stores.
"No way!" she said. "I could never sell these! If no one buys them I'll be embarrassed."
Well, let's just say, Alicia wasn't embarrassed.
She made 12 candles to sell in a local shop in Lincoln and a few weeks later the shop called and asked for more – they'd run out. So, she poured 12 more.
Things went on like that for a while as Alicia slowly grew her company into what's now a Midwest brand being sold in 35 stores across 11 states.
It's astounding and overwhelming, Alicia said, because she never imagined that pouring candles in her kitchen would turn into a full-fledged business.
Some days, all of her countertops are filled with freshly poured candles and Alicia and her 5-year-old, Navy, and 3-year-old, Satchel, spend the day packing up boxes to be shipped to customers.
And while Wax Buffalo was started by Alicia, it's really a family business.
Alicia said Jonathan really spoke into the brand and handles even the smallest details like packing up the car with candles before a big market trip.
"We've always been a team," Alicia said. "We work better together… and a big part of who we are is being a part of the other person."
The couple also still tackles video projects together, sometimes taking their kiddos with them to wherever their next adventure awaits.
But that's really the core of Alicia's story – learning to be ready for the next adventure, whether it's a quiet season or a chaotic one.
That's the thing about seasons, they change, and Alicia is getting ready for a whole new adventure. At the end of October, she'll be having their third baby, just in time for the busy holiday season.
But she's not too worried about it. There doesn't seem to be much that slows Alicia down these days, and the baby, well, she said she'll just strap him on and wear him around as she pours candles or sells them at the markets.
"Everything becomes this magical family adventure," she said.  "It's better that way."