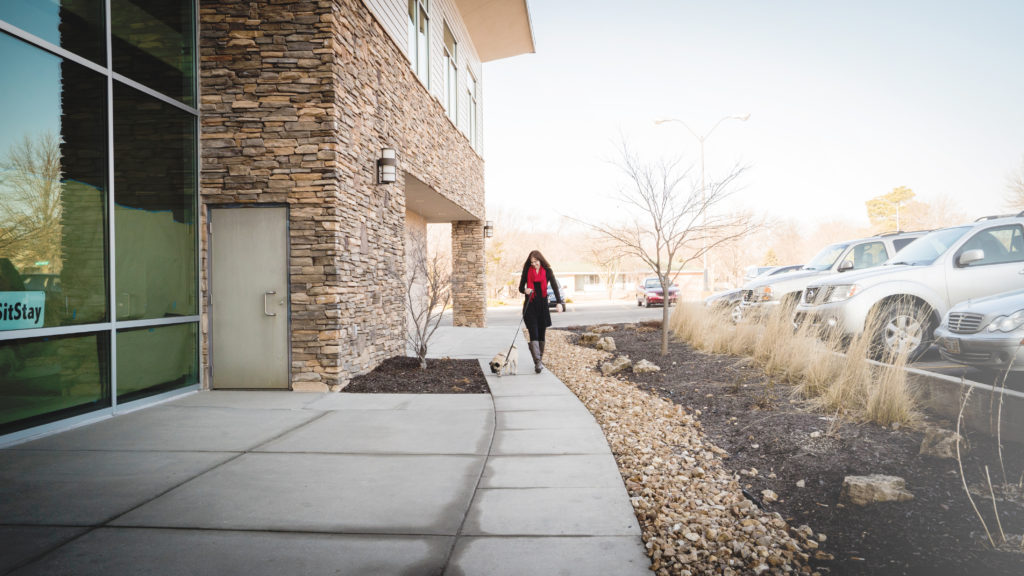 Jill Liliedahl is a self-professed crazy dog lady. We're talking the, she and her husband made a Facebook for their dog caliber of crazy dog lady.
Which is why it makes perfect sense that she's the CEO of SitStay – an online marketplace for dog supplies.
But working at SitStay wasn't part of Jill's plan, mostly, because a lot of her story is about changing plans, trying new things and finding her place.
In college, Jill was a political science major who didn't want to go into politics. She went down the social work track and then on to earn a graduate degree in sociology. She's lived on the east coast, dove in to the nonprofit world and moved back to Lincoln. She took a job that exposed her to the startup scene and then ended up launching a premium popsicle business. Now, she's at SitStay.
These are just the highlights, but you get the idea – Jill has had a lot of jobs.
It's not because she's flakey or indecisive, actually it's the exact opposite – Jill is crazy smart. She has a high capacity for learning and trying new things, but this has also been a challenge for her. She's interested in so many things, that picking one seemed incredibly difficult.
But more than her litany of jobs, what's held Jill's story together is her family and her community.
Jill grew up in Hastings, Nebraska, a town less than two hours west of Lincoln. As a kid, she watched her mom open her own fabric store. Jill thought the shop was just another cool place to hang out, but as she got older, she realized that not everyone gets to watch their mom start something.
Sure, it wasn't some techy, hard-hitting business, but it was her mom's way of meeting a need in their community and Jill was proud of that.
So, when Jill started her speciality popsicle business her mom and dad jumped right in. Their phrase was, "Let us know what you need!" and they meant it.
Sure, it may have been just popsicles, but that didn't keep them from spending every summer Saturday at the Farmer's Market with Jill. Her family became her go-to taste testers, sales team and chief marketing officers – they knew the startup world because they'd been there.
And while Jill loved what she did, and her family understood, she realized that running a business – whether it's popsicles or dog supplies – can be isolating. Her schedule, interests and frustrations felt unique, and yet she wondered if there were more people out there with similar struggles. It was hard because Jill felt like she'd found her place, she was building a company and using her wide range of skills, but something was missing.
Jill shared this with her friend, Amber Pankonin, and in 2013 they started a group called Ladies Launch Lincoln as a way to connect with female entrepreneurs. They were shocked at the number of women (and men) who showed up to talk shop, get advice and share their latest ideas.
The group became Jill's safe place. It was where she received tangible advice, but also where she saw her story more clearly.
She realized that a roundabout academic and job history was pretty common in the startup world, and it didn't matter that she was a former poli-sci major or wasn't necessarily putting her Master's degree to work every day.
Perfect planning, while tidy and helpful, hasn't propelled Jill. Instead, it's been the love and support of her family and an amazing community.
Jill's story can be confusing because of her long list of loosely connected jobs, but it's also extremely simple. It's about pursuing what she loves, being content in the unknown and pushing forward, knowing full well that sometimes no plan is the best plan.